If you have had enough of war (you probably don't because you never were in one), here is a list of the Merchants of death – contractors that work for the 'defense' industry and profit grossly on it. Knowing who they are, makes it possible actively NOT to support them and do Responsible Investments.
I've been there. In the mountains of Afghanistan. Hunted, shot at, and held prisoner by a rogue renegade local warlord for weeks. Greedy people start wars. Dumb people go to war – me for instance. Wise people stay at home.
If you buy from these companies you are in fact supporting continuous wars all over the world. And of course, the US is in the front every time. So think a moment about doing RESPONSIBLE Investments. Investments that support PEACE instead of promoting perpetual wars. Sustainable Investments.
You also support an industry that is corrupted beyond belief. Do I have to mention that CIA supports and arms rebels all over the world to overthrow democratically elected governments?
I made a pretty penny after coming home from war and I didn't know what to do with them, but I thought the stock market looked interesting. So I spent a lot of time figuring out how to invest in stocks, commodities, options, and indexes all over the world.
It was obvious to me that the war machine was NOT where I would put my money! Big Pharma is very much excluded too as they are a bunch of crooks I can't support at all – except for a few smaller companies outside the US. I don't put money in oil either. It is a dirty business and it is too closely related to the military. Besides – oil will get an end at some point.
Instead, I invested in tech companies at NASDAQ and it was quite fun. Many are likewise contractors for the military-industrial complex but far from all of them. I found some great online portals:
Plus500 which has a great user interface and easy-to-use graphs.
Markets.com which has the same great user interface and is easy to use (once you know all the money and dealing terms).
Trading View. My favourite research platform.
Of course, I will advise you to be VERY careful! Take the time it takes to educate yourself. I didn't make money for the first two years. Actually, I lost some. Not overwhelmingly much because I was careful only investing small sums I could afford to lose! This is also a part of Responsible Investments. You are responsible to yourself.
Socially Responsible Investing!
I met a pretty rich investor not long ago. He was VERY conscious of his focus on investing.
Everything related to war and the sex industry was not getting money from him.
No matter the return was high!
He loves making money but he would never make money on other people's sufferings!
I am glad I met him because I had the same feeling about Socially Responsible Investing.
If you want to invest in the future of mankind, a peaceful world, and your conscience here are some companies NOT to invest in:
This list is from a book written by Alan Axelrod. "Mercenaries: A Guide to Private Armies and Private Military Companies."
The book is well over 400 pages and every paragraph has been thoroughly examined and documented.
SAAB – Swedens largest defense contractor
Swedish Defence Research AGENCY
ArmorGroup/4GS
Erinys Holdings Ltd.
Groupe EHC (France)
Golan Group
International Security and Defense Systems
Meteoric Tactical Solutions
Protea Coin Group
Ronin South Africa
Securitas
Edinburgh Risk and Security Management
BritAm Defense
Genric Holdings Limited
Janusian Security Risk Management Ltd.
Task International
Akal Security
BH Defense
Blackheart International
Corporate Training Unlimited
Custer Battles
Potomac River Group LLC
SCG International Risk
Steele Foundation
Sterling Global Operations Inc.
Total Security Services Inc.
Halliburton
Airbus Group
Amanda Macias has written this article on the top 10 US defense contractors which are:
Almaz-Antey
Leonardo
Thales
General Dynamics
Northrop Grumman
BAE Systems
Raytheon
Boeing
Lockheed Martin
On Wiki, you can find this list of US defense contractors.
Of course, there are thousands more around the world and I will keep updating this list so we can do more Socially Responsible Investing.
Sustainable Investing
Sustainable investment refers to an investment strategy that considers both financial return and positive impact on the environment, society and governance.
This type of investment seeks to promote a more sustainable future by supporting companies and initiatives that align with environmental, social and governance (ESG) principles.
Investing sustainably offers numerous benefits, not just for the planet and society but also for investors.
For example, companies that prioritize ESG factors are often better managed and have a more resilient business model, resulting in stronger financial performance and reduced risk over the long-term.
Additionally, sustainable investment can help address some of the world's most pressing challenges, such as climate change, inequality, and human rights violations.
However, it's important to understand that sustainable investment is not just about avoiding negative social and environmental impacts, but also about actively seeking out positive impact opportunities.
This can include investments in clean energy, sustainable agriculture, affordable housing and access to education, to name a few.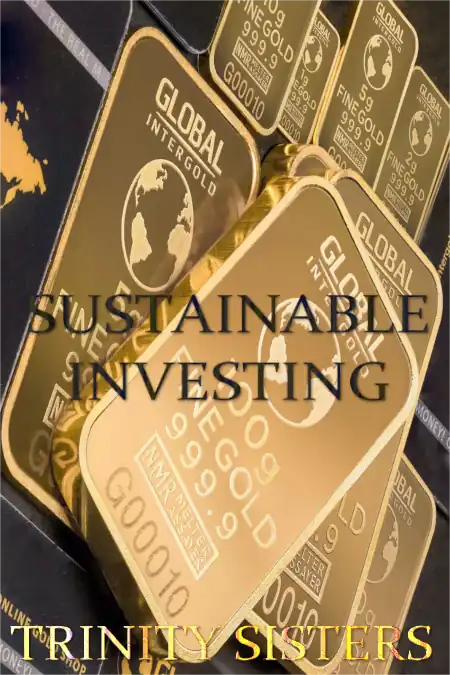 The demand for sustainable investment has skyrocketed in recent years, with more and more individuals, institutions, and governments recognizing the benefits of investing in a more responsible and sustainable manner. In fact, sustainable investments now represent a significant portion of the global investment market, with trillions of dollars invested in ESG-focused funds and sustainable investment products.
Investing sustainably is not just about the future, it's about creating a better present and addressing the challenges that we face today. By choosing to invest sustainably, individuals and institutions can play a crucial role in driving positive change and building a more sustainable and equitable world.
So, if you're interested in investing with purpose, consider exploring sustainable investment options. Whether you're a seasoned investor or just starting out, there are a variety of products and strategies available to suit your financial goals and values. With sustainable investment, you can align your money with your values and help create a better future for all.
Happy investing – and do remember:
BE CAREFUL! Never invest more than you can afford to lose!
Invest in your Future! Think about Socially Responsible Investing!