Detroit is half dead. Or half Detroit is dead. It's a broken city. Just like me. I guess half the city is abandoned and all around the city in homeless communities, it's easy to be accepted as part of a group. People are really nice and help each other all they can. I ended up in a place with tents and was invited by a woman to sleep in her tent at night and in the middle of this place that once was a thriving community, we had a huge fire to keep us warm. These people have nothing. Nothing! Apart from the outworn clothes they are wearing. Some of the gangs around are criminal and weaponized, trying to dominate a block that laughs back at them because there is nothing left to dominate. Nothing to rule over. Nothing to live for…
Everybody is trying to survive in some way. The general mood is despair, desperation, decay, and destruction…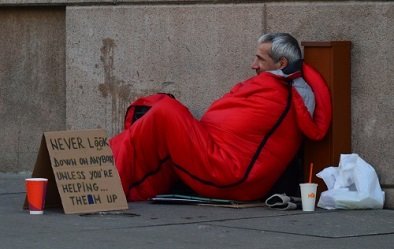 There were 15-20 people in my group trying to survive. There were empty houses all around, but most people preferred the tents. The houses were cold and they had no water anyway.
But there are shelters here that are better than sleeping in the streets, especially in the winter, and there are organizations, mostly churches that provide food for the homeless.
In the daytime, we try to keep warm and once in a while, someone is lucky enough to find work for a few hours or a few days, but never enough to lift him out of this swamp. This is one of the reasons to run a tent city because when you are finished at work late at night the shelters are closed.
It is as if this city wants us here. Eternally poor, living day to day. Maybe we are the heart of this city and downtown Detroit is the unnecessary money making ego maniac center that keeps this polarization – the gap between rich and poor alive. This gap is like a prison wall except a prison wall is probably easier to jump. Maybe it is us who are free and the rich who are the slaves…
No doubt capitalism works. For the top 1% of 'humanity'! The richest. But it doesn't work for the rest of us. Trickle down economics is a filthy excuse the rich use to make even more money. There is no such thing as trickle down. Not even a microscopic part of the money they make will ever trickle down.
Like everything else in this world, it works the opposite way around. Money trickles UP! Money is exempt from gravity. Money has always been made in the low and middle class and then they go upwards in society and ends up in offshore tax free accounts. From there they go to the stock markets and grow even more without anyone except the billionaires benefitting from it.
Money is a tool for the richest to make even more money. Because of one simple thing. Money is the best way to power and influence for small insecure egos that hide behind a facade of strongness and willpower. The purpose of money should be a tool for everybody.
The money supply is either a tree where you can pick all the money you want or it is a closed limited system! Right? It can't be both! And we can probably agree that the money supply is not unlimited (although the rich behave like it is).
THE MONEY SUPPLY IS LIKE A BIRTHDAY CAKE!
The money supply is a closed loop. Just like a birthday cake. If the two fastest (most greedy) eat 4/5 of the cake there is only 1/5 left for the other 23 children at the birthday! Right?
Sometimes a police car drove by to check and in one of these police cars was a senior police officer that sometimes stepped out and handed us bread and sometimes even a few dollars.
He often took some time to talk to us and listen to our stories and he also told us what happened outside our little ghetto.
One day he asked me my name and I told him I was Quiet. Well I'm John, he said and I wanna tell you a story Quiet. Can we sit down over here?
"I read a story recently", he started. "A very sad and moving story – but not without hope", he started. "Once there was this beautiful innocent girl living in London with her mom and her sisters. They had a fine life but one day a man moved into the house and he started destroying the family. They got split up and lost contact with each other. That little girl had a father, she did not know and instead, she got this horrible stepfather that was the devil himself and if someone had not killed him, I sure would have found a huge amount of pleasure in doing it myself, before he killed someone."
Slowly I began to realize that it was ME he was talking about and I almost panicked and started thinking of running away as fast as I could. But he noticed I was scared and he said: "I'm obviously not here to arrest you. I know everything about you. The UK police know that you escaped to New York and I was assigned to the case via Interpol to find you. It wasn't easy and I learned a lot about you and your family along the way. At this point, I am pretty sure I know who your real father is because I got access to some of his records in CIA and I am trying to locate him right now."
"I think you did the world a big favor helping your stepdad into the next world. The world is a better place without him and as far as I am concerned I will just keep on working on your case never finding you. By the way… The police in London is not that eager to find you either. Your stepdad had a very long record of violence and sexual crimes against kids and he was released from jail only a week before he moved in at your mom's place."
The detective from England and I became good friends. He knows every bit of your story and his short bold comment on this case was that you saved the British taxpayers a lot of money. As far as he is concerned justice has been served extremely well!
The next day he came back with more food and he also brought me some clothes. We talked some more and he told me he had a daughter at my age Debbie (16 yrs) and the clothes were from her. He also had a son John Jr. (25 yrs) that wanted to be a policeman.
He then asked me what I wanted to do for a living and I was very surprised to notice that I never ever thought about anything else than making it through the night. It was like opening a fantasy door and I began imagining things and dream about a brighter future. Scary and exciting at the same time. And it suddenly occurred to me that I wanted to become a nurse.
So I told him with a passion in my voice I never had before: "I want to be a nurse. I want to heal and help people!"
"I knew you would, he said. Your heart told me long ago that you are going to change the world for the better!"
John Sr. often came by to check me and one day he told me that one of his friends in Detroit had a Café and he was in need of a pair of hands to serve food, drinks and coffee.
It's a nice cozy place, but the owner is getting older and would like to hire some help. Would that be something you are interested in? he asked.
I was very surprised. I told him I never had a job in my life before and didn't know anything about cafes and serving people.
My friend is a very nice man and he will teach you everything you need to know. In a year you will be able to run your own café!
Think about it.
I will be back tomorrow, then we can go visit him if you are interested.
I was still equally anxious and excited the next day when John took me to the Coffee shop. We went in and he took me to the kitchen out back and introduced me to the owner James who was making sandwiches.
James was a grey-haired big African American and he said: "Ohh I heard so much about you Lenora and I have been looking soooo forward to meeting you! Have you gotten anything to eat yet? I'll fix you a delicious sandwich he said before I could answer. Find yourself a table and I will be right back."
John and I walked back into the café and sat down at a table and shortly after James came back with sandwiches, soda and coffee for all of us.
He sat down and began to talk. "My wife died last year and things have been hard here in my café ever since that time. I didn't know how to continue after that. I sometimes just wanted to quit everything, but John kept coming every day ordering coffee and food, so I really couldn't close the café, could I? He looked at John, took his hand and laughed!
"John has been a tremendous support since my wife died and it was him who suggested that I should find someone to help me. At first I didn't have the energy to find one but on the other hand, I don't have the energy to continue this alone either. I can pay you 15 bucks an hour and free meals from the kitchen and if you are interested I have a spare room upstairs where you can move in if you want to. There's a toilet up there too, but regarding the kitchen, I'm afraid you will have to suffice with this down here.
There's a washing machine out in the back for cleaning towels and so on and you can use it for your own clothes if you want to.
I would really like you to feel at home – even though it is a café."
After finishing our sandwiches we went upstairs and I realized in a huge moment that my life was about to change.
Change for the better and I was overwhelmed.
I cried and I had to give them both a big, big hug. I felt hope and I was happy for the very first time in my life.