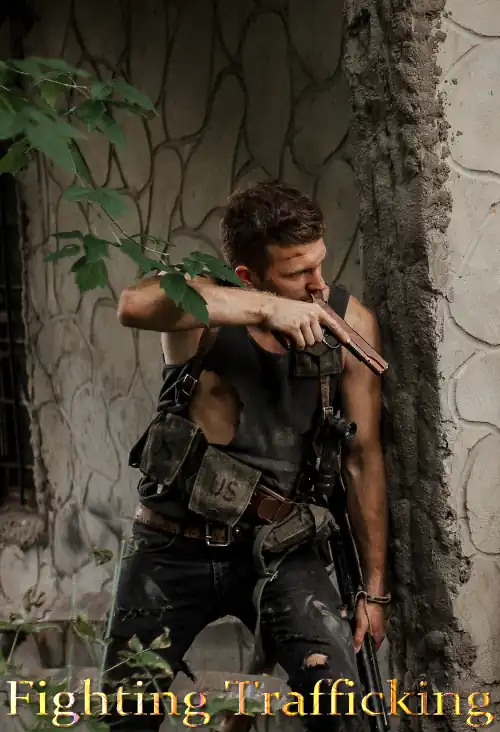 Snyper, Psycho, Coach, and Goldie arrived in London the next day and we spent the first hour just talking, while we drove to the garage.
– Guys! I said to attract their attention.
– In the UK it is illegal to carry weapons so we have to be careful. Not even self-defense is a justification for carrying. We have a situation outside London we have to look into and if nothing revolutionary comes up here it looks like we are going to Albania tomorrow.
– As of now, we don't know much about the location. It's a mansion. It's heavily guarded with personal bodyguards, don't know how many but 10 or 12 armed with concealed weapons outside the house and inside probably armed with fully automatic weapons, would be likely for a man in his position. Maybe dogs.
– I suggest that Snyper, Goldie and I go there. Psycho and Len go to the collect house just to check if there is anybody there or to see if there is any trace of Angel. After that, you will take our three prisoners and dump them at a police station or tip the police somehow without being noticed and Coach you stay here and find a transport to Eastern Europe, most likely Albania.
Snyper, Goldie and I took the car and drove north to pay Kristo Dako a visit.
We stopped a mile before arriving and unfortunately his mansion was placed in the middle of a huge plain field that made it difficult to approach the place. Attacking at night could be risky as they – like us, might have Night Vision Goggles.
– The direct approach seems to be a bad idea for this, Snyper commented.
– Yee, a plane would be better, Goldie said.
We watched for an hour and noticed only 4 guards outside the house, which probably meant at least 8 more inside so they could take shifts around the clock.
So we put a plan together.
– We would go back to London, team up with Psycho when he and Len are back from the collect house, rent a plane and jump covered in darkness. Unfortunately, I have no experience in parachuting. As you know I usually stay on the plane until it hits the ground somehow!
– I will provide the escape by car and when you have taken the outdoor team down, I will join you for the interrogation of the survivors.
We went back to the garage.
I gave Goldie and Snyper each a silenced Glock.
– If you need more firepower such as fully automatic weapons you will have to borrow them at the mansion.
Len and Psycho hadn't returned yet so I made some coffee and we talked about the whole damned situation until Len and Psycho arrived.
They had a girl with them.
– House wasn't quite empty, but it is now, Len stated.
– They were three men watching Camila who was taken on a bar here in London just two days ago. Camila is from Sweden and was traveling with her best friend. Let's have some coffee and some food, then we will go to her hotel and see if we can find her… What was her name? …he said looking at Camila.
– Ingelil, Camila replied.
– Yeah, Ingelil it was!, She probably already involved the police so we will find her and take them both to the local PD and disappear.
– What about the three bodyguards in the house? I asked.
– They are permanently unemployed! Psycho replied. – They got some kind of ehh… terminally illness…
Visiting Kristo Dako.
We actually didn't need to take Kristo down. We had the information we needed to start searching in Albania, but I was determined to stop this trafficking league so other girls wouldn't end up in the sex industry.
These guys have a weird routine before jumping. Psycho was the pilot, Snyper Co-pilot and Goldie served coffee. These guys are amazing and they do things others won't. But one thing is for sure. They can't sing! So I'm kinda glad I wasn't there! But I swear I could almost hear them singing in the sky when I parked the car near Kristos mansion! The tune was: Battle Hymn of the Republic. Better known as Glory, glory halleluja.
– The Major was the last to jump but the first to hit the ground
– The Major was the last to jump but the first to hit the ground
– The Major was the last to jump but the first to hit the ground
– and he ain't gonna jump no more!
– Glory, glory what a hellu'va way to die
– Glory, glory what a hellu'va way to die
– Glory, glory what a hellu'va way to die
– and he ain't gonna jump no more!
The song had a lot of verses but I only remember this!
Snyper is extremely good with a parachute. He landed on top of one of the guards behind the house. He landed so hard that the poor guy didn't survive the clash. Around the corner, he took one more out with his Glock. Goldie landed in cover at the end of the mansion and took out two guards in front of the house. They all had concealed fully automatic weapons under the jacket so they took one each in case the 'conflict' should escalate and they also took their keys in case the front door was locked.
That was the easy part. The building had two floors and by looking through the windows it was hard to figure out how many they were inside. They just had to find a way in and take as many of them out as possible. The front door was locked so they had to try all the keys they collected and luckily one of them worked. I arrived one minute after they went in.
Snyper went upstairs and Goldie swept the ground floor. All of them were sitting relaxed in chairs or armchairs in different rooms, which meant they wouldn't fall on the floor and make noise. They were heavily armed. They all had automatic weapons as well as one or two small firearms.
Goldie took out four bodyguards and approached a closed door in the rear of the house. We could hear someone talking in there. Snyper came down and joined us.
Goldie whispered:
– If there are people talking in there it probably ain't bodyguards. More likely business associates. Should we ask them a few questions before we leave the premises?
– Absolutely. They might just have some valuable information about Albania, I said.
Goldie rushed in closely followed by Snyper.
– Everybody keep calm, he shouted.
The man closest to Goldie grabbed for something inside his jacket, but he was too close to Goldies gun and quite suddenly he felt his own warm blood running down his bald head and into his ear right after the heavy impact with Glock steel! Goldie pointed his gun in a circle round the room and pointed at each and every one.
Apart from Mr. Kristo there were three other guys who were definitely not bodyguards.
– The Lady wants to speak, he said in a way that demanded their full presence.
– Four months ago my sister disappeared from London. We followed the trace and it lead us here. I wanna know exactly what happens to the girls you are kidnapping. NOW!
The silence after my little speech was about two seconds too long! Snyper grabbed the nearest man, twisted his arm so long up his back that I think I heard it snap even though he was screaming.
– Silence! Snyper commanded while he smashed the man's forehead into the table so fast that it cracked! Not his head. The table!
Mr Kristo started talking with an eastern European accent.
– You don't know who you are messing with!
Snyper was over him with lightning speed and Mr Kristo also had to accept the pain from the impact of a G19.
– Shut up! Snyper commanded and I began talking while putting my ass on the table right next to Kristo.
– You got it all wrong Mr Kristo. You snatched my sister from the streets of London so YOU messed with me!
– This is simply put the inevitable consequences of messing with my family!
– Fuck you! It's just business.
Snyper hit him once more while he said:
– Watch your language! You are talking to a real Lady!
– It might be business for you.
– But when your business-business becomes my personal business, your business becomes bad business.
– Fuck you! You won't survive this afternoon!
I was tired of talking so I looked at Snyper and waved my gun at the man in front of him. He understood perfectly. He kicked the chair under him and it tilted. The man fell to the floor and Snyper took him in his collar and pulled him up in one arm.
– You are a bunch of filthy, rapists who abduct women and children. You are not men. So, you won't need your balls anymore.
I shot the man Snyper held in his balls. He screamed and sounded like a pig whining.
– He will pass out in a couple of minutes and bleed out in 20, I said to Kristo. And you are next.
He looked terrified.
– Ok, ok, ok, he shouted in an increasing tone.
– Are the girls shipped to Albania?
– Yes.
– Where do they go from there?
– They are split up and sent to safe houses all over the country. Starting with the closest. There are ten houses.
There was a sudden unnatural shift in his way of talking. He kinda talked too much. Actually so much that it occurred to me that he had some kind of plan to make this information NOT leave the room. I looked around but didn't see anything unusual. So I stood up and looked discretely behind the two closest men and yes – Kristo had a gun on his back.
He would not be able to shoot all three of us alone so I hoped the remaining two guys also had guns. I looked at Snyper and looked fast at my gun and then on Kristo. He nodded. He was ready. Goldie noticed this pause was a split second too long so he looked at Snyper who first pointed at him and then on the Bleeding Baldy. Goldie pointed his gun a little closer to him. He got it!
On top of that, I suddenly saw Mr Kristo try to get eye contact with the man closest to him. I noticed that man get a lot more aware, so he probably waited for Kristo to take some kind of initiative.
– And you were the head of operations here in the UK?
– Where? What do you mean? I AM the head of everything that goes on in this rotten country. Drugs, girls, guns, cars, art. You name it. I got it.
– You are not head of anything anymore. You are fired!
– What??? You are not my boss! You can't do that!
I almost laughed at this pathetic little man. I don't think he realized the gravity of the situation so I moved close to him and put my gun in his left eye.
– You see dis gun? As long as you are located in front of it and me in control of the trigger, I can do whatever I want.
– Now I want you to put your phones and your wallets on the table in front of you and tell me the passwords to your phones.
Snyper took the phone from the man on the floor. He didn't oppose it. Four phones, four laptops and one password. Kristo was the only one to actually use a password on his laptop.
I was right. Kristo did intend to use his gun and the moment his hand went back to take it out, they all died. Three shots fired at the exact time. It sounded like only one shot, but all three of them collapsed.
I'll admit these guys are extremely efficient. My friends I mean. There's a chemistry, almost psychic like we are somehow communicating on a higher frequency or something. We work like one body controlled by an invisible brain. I call it One Mind. These guys haven't taken a job they did not complete with 100% success.
We took the hardware and picked up the chutes on our way out.
– We got their identification papers, passports, a few credit cards, some keys, their cellphones, and laptops. Coach will go through all this and find out who they were and look in their phones and laptops and mails and stuff. Maybe something interesting will show up, AND… We need to destroy our guns when we get back. Shouldn't we torch this place?
– That would be easy. They have gas in the kitchen, Snyper said. Go outside! I'll prepare for the end of this party.
We had to wait a couple of minutes to fill the kitchen with enough gas.
– The police will probably think this is gang-related, Goldie said while he threw a few grenades through the kitchen window.
– Fire in the hole! He shouted.
We ran like…