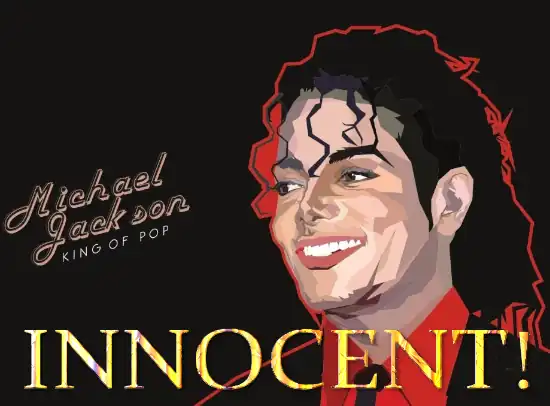 The talent of Michael Jackson is almost beyond comparison. The world hasn't seen a musical genius of this size since Mozart. His legacy is beyond words and as Orianthi – his last guitarist said: "A huge part of music died today, such an incredible artist and person that has inspired so many and brought joy to so many people's lives".
Personally I think his music is a gift from whoever runs this universe and I wanted to find out if these molestation accusations were true or not. I wanted to find out if it was right or wrong to besmirch his music – and him as a human being. I simply wanted to find the truth.
Is Michael Jackson innocent?
Here are some details:
I analyzed every single video I could find and the verdict is clear. It took me several months but I am in NO doubt what so ever. The body language of Michael Jackson is 100% authentic from start to end. On the contrary, the body language of Wade Robson and James Safechuck is the language of liars who try to act like victims to manipulate us to feel sorry for them. It doesn't work on me! I instantly know when people lie to me. And these two guys are lying like you have never seen people lie before. This was just a chance to make some easy money!
The psychology/personality of Michael Jackson.
From a psychological point of view, Michael Jackson had deep inner contact with his Anima – that is his feminine side, and this is necessary to be able to create anything at all. Women create a life for instance. Basically the feminine is the creative, lifegiving aspect and the masculine is the destructive, life taking aspect – look at this in a positive way. Old structures HAVE to be broken down using the masculine force and new ones have to replace the old outdated structures, That's where the feminine creative comes into play. So from a psychological point, Michael Jackson would not have the capacity to molest any child. He would probably not even be able to kick a dog if he got mad.
Try comparing Wade and James' stories with REAL victim's stories and you will see and feel a noticeable difference in credibility.
One of the important things that people seem to misunderstand is when Michael admits sharing his bed with the kids, most videos are cut before he adds that he actually slept on the floor!
Michael Jackson was totally acquitted by the FBI ? TWICE!
Michael experienced two FBI raids and they concluded there was NOTHING! NOTHING AT ALL! Not even a shadow of anything that could point to any wrongdoing. See the FBI Records here.
The Killer!
The one huge lie that made the entire accusation fall apart was James Safechuck saying he was being abused from 1988 to 1992 in the Neverland Train station.
BUT the building of the Train station first started in August 1993!!! James was caught in a gigantic lie! Read more here.
Michael Jackson was innocent! The scumbag (Jordan Neil ?Jordy? Chandler, 1992) that accused him of sexual abuse only caused a sensitive soul to suffer unnecessarily.
Michael, the verdict is clear. You have given the world your music of such a divine calibre. Your Love for humankind is far greater than most other human beings on this planet. Your legacy and your music will live forever and spread your Love and Joy for all humankind! We Thank You for that!
Michael Jackson. We sentence you to a life in Freedom, Joy, and Love. You are free to go!
Dave Snyper and Debra Quincy